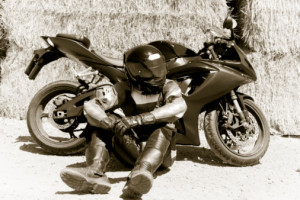 During the warmer months, many motorcyclists take their motorcycles out of storage, strap on their helmets and hit the open road to embark on a journey.  While many cyclists operate their motorcycles with the utmost safety and common sense in mind, there are others who see motorcycle riding as the ultimate joy ride and spend much of their time on the road acting careless and overly confident.  Even the most experienced motorcyclist would agree that operating a motorcycle requires the same skill, focus, and seriousness of driving a vehicle, if not more.  When a collision occurs between a vehicle and a motorcycle, motorcycle riders are at greater risk for severe and even fatal injuries.  Not only are motorcyclists the most vulnerable and least protected motorist on our roadways, but they are also the least "seen".  While many motorcycle riders make serious and valiant attempts to be seen, many motorists fail to pay attention to or be on the lookout for motorcycles.
According to the Centers for Disease Control and Prevention (CDC), motorcycle crashes killed 4,502 people in 2010 and motorcycle deaths have increased by 55% since 2000.  Fortunately motorcyclists can prevent severe injuries and fatalities by protecting themselves and following road rules.  Additionally, motorists (of vehicles) can learn to be more aware of motorcycle riders and make a bigger attempt to share the road, safely.
Safety Tips for Motorcyclists
As a motorcyclist, your safety is your number one responsibility and priority.  Individuals who are interested in owning or riding a motorcycle should consider if a motorcycle is a good fit and a smart choice.  A motorcycle is serious business and requires a certain level of maturity and a rider who values safety.  Before you ride, ask yourself:
 Are you a risk taker?  Motorcycle rides can be thrilling, but also requires attention and skills.  Risky riders are at greater risk at being involved in a serious, life-threatening accident.
 Are you safety minded?  Whether you drive a car, do projects around the house (such as lawn mowing or construction), or ride a motorcycle, it's important to think "Safety First!"  If you follow laws, wear proper safety gear and protection, and focus your attention on your project or your driving, you can most likely handle riding a motorcycle.
 Are you a focused and attentive person?  If you are easily distracted and make distractions a priority over your driving, motorcycles are not for you.  Motorcycles require attention; focus on the road, and a quick reaction time.  Too often, distracted drivers have slower reaction times to a potentially dangerous situation, resulting in an otherwise preventable accident.
 Do you drink and drive?  Not only is drinking and driving illegal, but it's extremely dangerous, affecting the lives of innocent motorists.  Operating a motorcycle requires more attention than a vehicle.  Drinking and Cycling NEVER mix.
Motorcyclists Should ALWAYS:
     Wear a Helmet and other protective gear.  In 2008, helmets, alone, saved 1,829 lives
     Ride within your own skills and comfort
     Ride sober, free from drugs and alcohol
     Don't ride aggressively.  Make yourself VISIBLE to other motorists.
Drivers Behind the Wheel:  Watch out for Motorcyclists
While many motorcyclists navigate the road with safety in mind, as a motorist of a vehicle, you have a responsibility to look out for motorcycle riders and share the road.
 Over half of all fatal motorcycles accidents involve another vehicle and most of the time it is the motorist's fault, not the motorcycle rider.  Vehicles outnumber motorcycles on the road and far too often, motorists don't see (and sometimes ignore) a motorcycle.  As a driver, pay attention and treat motorcyclists as you would any other fellow motorist.
 Because motorcycles are smaller than other vehicles they may be in a vehicle's blind spot (unintentionally).  Before making a lane change or turning, take extra time and care to look for a motorcycle that may be closer to your car than you think (and may not see in your mirrors).
Remember that motorcyclists are less protected than you, a driver of a vehicle.  Don't be an aggressive driver, don't tailgate or make decisions too quickly without noticing if a motorcycle is nearby.
This summer, the roads will be filled with motorists and motorcycle riders alike.  Whether you ride a motorcycle or drive a vehicle, share the road and be alert and aware of one another.  Don't let a picture perfect day be the setting for a catastrophic collision between a car and a motorcycle.