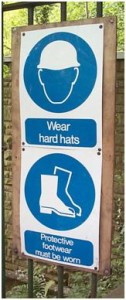 It happens all of the time. I'm sure it's happened to us all at some point. Often we report it to a manager or write it in an accident report book and get on with our day. However, sometimes an injury at work can have a major impact on our lives. Something as simple as cables or plastic strapping that has not been disposed of properly or the carelessness of another person can cause an accident that can potentially injure you in a way that can never be repaired.
To give you an example, I will tell you the story of my father. My father works in a distribution warehouse. Being a senior manager in the company, his job is to deal with companies, work with logistics and co-ordinate the drivers. In no way should he ever been in the warehouse area at the time of his accident. However, his colleagues that day left without asking, and lack of colleagues meant my father had had to go out to the warehouse and man a forklift to load a shipment onto a lorry for transport. However, a colleague who had remained on the grounds was carelessly talking on his phone whilst operation the fork lift and as a result did not see my father, regardless of the fact that he was wearing his high visibility clothing, and drove one of the protruding forks straight into my father's back. My father now has severe spine damage and limited mobility in his neck and arms. When he first had the accident, we nagged and nagged him to get in touch with a nerve damage solicitor but he wouldn't.
This is a cautionary tale. My father never claimed, and as a result, now, 10 years later, he still struggles immensely with his back, because he would not claim and therefore could not afford specialist treatment to help him heal better. If you suffer from an accident at work that leaves you in a similar state, I beg of you, get in contact with a company such as BBK solicitors before it is too late.