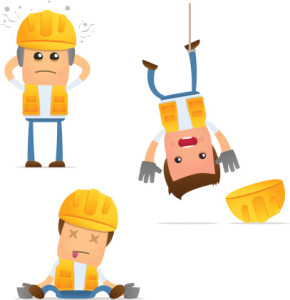 No one is immune from the possibility of being injured at the workplace. No matter how many safety features are in place, these unplanned accidents can still occur. After a serious injury, you are likely to incur a lot of added expenses due to your injury. Most of the time, the employee does not even realize how much these extra expenses add up until weeks after their injury. If you have been injured on the job, it is vital that you understand from the beginning what type of costs you may incur and who is responsible for these costs.
Medical Expenses
Naturally, if you are injured on the job you are going to incur some medical expenses. This may include professional services, such as hospital visits, doctor appointments, and therapy services. There are additional medical expenses that you may incur that your employer may be responsible for. These expenses include, but are not limited to, prescription or over-the-counter medication, medical supplies ordered by the doctor, and medical equipment like crutches or a wheelchair that the doctor prescribes.
Lost Wages
Depending on the severity of your injury, you may also be required to take off work. Your employee is responsible for covering your lost wages, but it is your responsibility to keep your employer up-to-date as to your ability to work. You may also need to get proper documentation from your doctor if required by your employer. If the doctor requires modifications in order for you to go back to work, it is your employer's decision to provide those modifications or continue paying worker's compensation. According to The Bulldog Lawyers, however, some employers may not find your injuries minor enough to deny you workers' compensation. This is a very important thing to go over with your employer.
Travel Expenses
One expense you may not think of is extra travel expenses you incur during this time. This includes trips back and forth to your medical appointments or therapy sessions. It is likely that your employer, through their worker's compensation company, is required to reimburse you for these added expenses. You must keep track of your mileage to each of these appointments in order to seek reimbursement. Keep a logbook in your car to track the date, the number of miles traveled and what appointment you attended.
Emotional Distress
Oftentimes, an injury at work can cause much more than physical injuries; it can cause you emotional distress, as well. Depending on the injury and the situation around the injury, you may experience increased stress, depression, and anxiety. If these emotional  issues are directly related to your injury, they need to become part of your treatment plan also. If you are experiencing any of these issues, you should talk to the doctor treating your workplace injury.
Depending on the extent of your injury and the overall expenses you incur, it may be in your best interest to seek legal advice. A worker's compensation lawyer will be able to explain your rights, and help you determine what costs your employer should be responsible for, and which ones they are not. This may be able to help you financially, as you are already going through a very painful and often difficult time during your recovery process.