The family of a man who died in a road traffic accident while at work may launch a compensation claim against their late family member's employer. The man worked for a custom car manufacturer and sadly died in the road traffic accident while test driving a vehicle. He had brought along a colleague with him for the drive and it was just the second voyage that the vehicle had been on since it's inception. At this stage, it's unknown exactly how the road traffic accident occurred for the man to have lost control of the vehicle, turning sharply into the outside of the road, hitting a curb before rolling vehicle several times. It finally came to halt on its roof.
The road traffic accident was described as being particularly surreal by eyewitnesses, with the car suddenly lurching at a 45° angle away from the centre of the road. The man's colleague who was also in the car at the time of the traffic accident sustained a serious head injury. The driver was killed from the impact of the road accident. As the car was a work in progress, it did not have seat belts fitted which may have otherwise mitigated the damage suffered in the form of personal injury to the two men.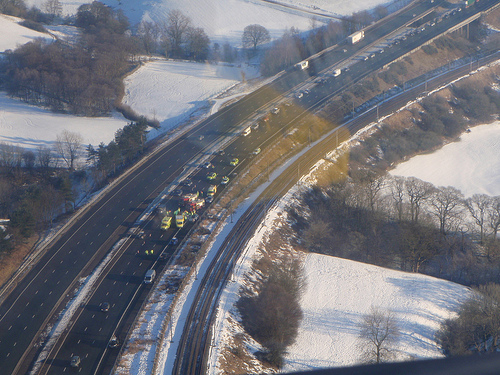 The family is thought to be initiating the compensation claim against the employer for negligence. The man should not have been allowed to take the vehicle onto the road in such formative stages and especially not without seat belts. It appears that there are no such safety procedures in place in the man's garage, which must remain undisclosed at this stage for legal reasons. The police investigation into the mechanics of the vehicle and how it went wrong to have caused the road traffic accident is still underway.
It's expected at this stage that there was some kind of problem with the steering column and that part of the rack and pinion steering system broke, forcing the steering wheel to one side sharply. The family is thought to be seeking considerable amount of compensation for their lost family member in addition to loss of income which will be experienced. The man's wife does not work at present and she spends her time looking after their two children at home, meaning that loss and the pain felt from it will be increased significantly. My Compensation wishes the family all the best.
Jim Loxley is a Director at road traffic accident claims specialist, My Compensation