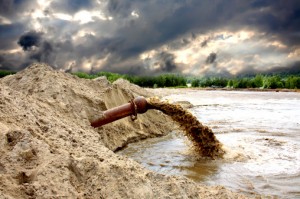 Marcellus Shale is the result of a specific kind of geological activity. It is formed over millions of years by sediment accumulating, from being buried under the seabed, and from being compressed. Marcellus Shale is also known as marine sedimentary rock. The shale is extremely rich in fossil fuels, which is why companies are leasing land where Marcellus Shale is present in order to begin fracking, an extraction method unique to fossil fuels and natural gas.  However, conflict has arisen in these areas because of the adverse effects discovered in these communities.
Areas rich in Marcellus Shale in the USA include New York as well as Virginia, Kentucky, Pennsylvania and Ohio. While energy companies are excited that Marcellus Shale contains valuable fuel, the fracking process may bring about hazards or risks. Read on to learn about the potential dangers associated with Marcellus Shale.
Marcellus Shale and Methane Emissions
One serious problem regarding the extraction of Marcellus Shale is methane migration. Escaped methane gas is known to be a problem near Marcellus Shale drilling sites. This has been particularly problematic in Northeast Pennsylvania. While seeping flammable gas is a huge risk in wooded areas, it becomes even more hazardous when it seeps into homes. High levels of methane were found in basements in September 2011, for example, and many citizens were forced to evacuate.
This becomes an even bigger problem when the methane is not contained to land. Last year, escaped methane gas in Pennsylvania made its way into wetlands, creeks and wells. While authorities stated that the drinking water was still safe, many residents were convinced that methane-infused drinking water remained unhealthy. Of 60 wells tested in the Pennsylvania area, 14 of them had hazardous methane levels.
Marcellus Shale and Lung Cancer
Another potential risk associated with the fracking of Marcellus Shale is the possibility of an increased risk of developing lung cancer. It is the high percentage of radon in the natural gas contained in the shale that is thought to be linked to lung cancer. However, there is no hard evidence to prove whether this is the case or not. While initially the high levels of radon were predicted to cause thousands of lung cancer deaths, in October 2012 these claims of the radon contributing to lung cancer were rejected.
Regulating Construction Standards
It's not just residents near Marcellus Shale drilling sites who may be at risk. In many instances, these sites have very poor safety standards. Many of these fracking sites have very few safety checks, putting their workers at risk. Poor standards and lax management increases the risk of worker injury and death, and puts companies in a position that leaves them open to criticism.
While energy companies are enthusiastic about Marcellus Shale and the fossil fuels they contain, ethics and safety are a huge concern. If you live in an area that contains Marcellus Shale and you are near a fracking site, be aware that you could be at risk. Keep an eye on your drinking water and install a methane monitor in your home.
If you have suffered a major loss because of unethical fracking, consider speaking with an experienced lawyer, as you may be eligible for compensation.  Munley, Munley & Cartwright, P.C. are experienced Marcellus Shale accident lawyers serving Pennsylvania communities.  For more information about Marcellus Shale and fracking, visit the website at www.Munley.com.